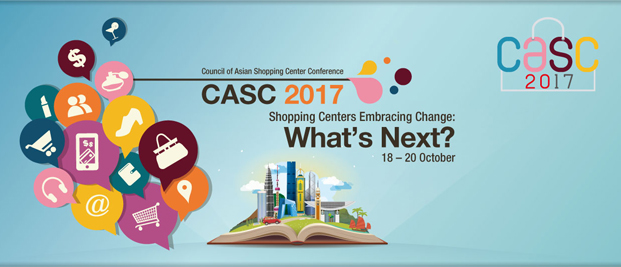 We are pleased to confirm that the Institute of Shopping Centre Management (ISCM), our Hong Kong shopping centre association counterpart, will be organising CASC Conference 2017 in HONG KONG from 18-20 October 2017.
CASC Conference 2017 is an annual regional conference involving industry experts from member countries like Malaysia, Indonesia, Hong Kong, China, Taiwan and Japan. Participants will gain valuable insights of the shopping centre industry from these countries and it would be a prized opportunity for networking with the regional expertise including mall management as well as prominent retailers. CASC Conference 2017 is supported and endorsed by PPK Malaysia and other fellow CASC Members like Asosiasi Pengelola Pusat Belanja Indonesia (APPBI), Mall China, Japan Council of Shopping Centers and Taiwan Council of Shopping Centers (TCSC).
Registration is open now. For more details, please click HERE and refer to http://casc2017.com/reg.php#a
---
We are pleased to inform members that we shall be continuing with our Education Series 2017 with the abovementioned seminar, focusing on the administrative and leasing components in shopping mall management.
As many are well aware, the current economic scenario and retail sentiments may have resulted in many tenancy issues requiring business decisions and eventually, involving legal action. Our 1-day seminar looks at the Practical Solutions to Legal Problems and will be held as follows:
Date: Wednesday, 27 September 2017
Time: 9.00 am to 5.00 pm
Venue: One World Hotel, Bandar Utama Petaling Jaya
Fees: RM1,200 per pax for members (including GST)
Topics to be presented at the seminar include issues relevant to owners/managers of shopping malls like recovery of outstanding rental, how to execute judgements against defaulters and occupiers' liabilities. There will also be a session on strata management regulations and their impact on shopping mall management. Of particular interest will be a litigation case study from the Strata Management Tribunal.
For more information, and to register for the above said courses, please click HERE.
---
We wish to inform members that the new travel dates will now be from 5-12 November 2017. This is because it has just been announced that CASC Conference 2017 will be held in Hong Kong from 18-20 October (which was our original travel dates). Therefore, the new dates have been fixed accordingly so that Mall China (our China counterpart) will be able to make arrangements host our group in Beijing and Shenyang. Due to this, the closing date has now been extended to Monday, 28 August 2017.
For more information, please click HERE to download the revised programme and the registration form.
---