Brimming with excitement and much animation, our group of 47 participants from malls all over Malaysia took off for Shanghai, looking forward to a great time to check out what the 'Paris of the Orient' had to offer.
First stop was to the city's iconic destination at The Bund followed by a Welcome Dinner at Yilixiali Restaurant. The next 2 days were spent visiting a total of 6 malls, with a quick shopping stop at the Florentia Outlet Malls thrown in as a bonus on the last day.
There was a grand welcome from the management of Global Harbour Mall which was styled after European architecture. This was followed by Joy City, famous for a full-sized ferris wheel, billed as a 'landmark of love', mounted on the side of the mall and which offered rides with a tea break as well as dinner 'in the air'. What was more interesting were the craft shops where shoppers could sign up for classes on leather craft, ceramics, woodcarving, cooking, painting and more.
At K11 Art Mall, all things were art-centric, with numerous pockets of exhibition spaces throughout the mall. The décor included expensive art pieces as well as a non-functioning quirky 'pink washroom' which attracted shoppers as a photo opportunity, to upload on social media.
More conventional shopping malls included Taikoo Hui, ifc mall and iapm mall. As a newly opened lifestyle mall, Taikoo Hui is well connected to public transport and is a mixed development of offices and hotels. Participants also had an optional visit to Starbucks Reserve Roastery, the biggest outlet in the world which is located here.
ifc Mall is home to several globally branded flagship stores with the mall design inspired by dazzling diamonds whilst iapm Mall, which, as the name suggest, opens early and closes late, is a luxury one-stop shop with the biggest names in fashion.
Some innovative participants even found time to visit Shanghai's iconic Xintiandi, which combines old architecture with modern retailing and in 2 different blocks. Shanghai certainly had elements of vibrant malls, glamour and history and overall, as some participants put it, "This trip exposed me to great new ideas in mall management" and "It was a fruitful trip getting to know each other from different malls".
Please click here for pics.
---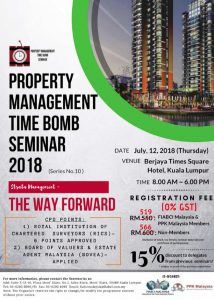 It's been 10 years since PPKM co-organised this popular seminar with FIABCI Malaysia and we are still getting enthusiastic response. Although regulations have been revised several times, participants are all eager to find solutions to their everyday and ongoing problems on strata management.
Date: Thursday, 12 July 2018
Time: 8.00 am to 6.00 pm
Venue: Berjaya Times Square Hotel, Kuala Lumpur
The seminar takes a close look at strata management from the viewpoints of both building owners and developers with speakers from the private and public sectors sharing case studies and their insightful experience with participants.
Details of the speakers and programme of the seminar will cover the following topics:
– Overview of Strata Management in Mixed Developments
– Registration of Property Managers – Impact on the Industry
– Strata Management – The Complex Case Studies
– Common Problems for Strata Property Owners – Case Studies
– Strata Titles – The Way Forward
– Common Problems for Strata Property Owners – is there self-help?
The seminar fees are as follows:
• Members of FIABCI Malaysia and PPK Malaysia : RM 519
• Non-members : RM 566
Specially for this 10th edition, we are having a discount of 15% off the above fees for delegates who have been supporting us over the past years and have attended the previous series (subject to proof of the previous registration); so do not delay, please do avail yourselves of this attractive
offer immediately.
Interested participants are requested to register for same with FIABCI Malaysia soonest possible as seats are limited and will be available on a first-come-first-served basis. In the event you require further details, kindly email fiabcimalaysia@fiabci.com.my or call Tel: 03-6203 5090/91.
For more information, please click HERE to download the programme and the registration form.
---
PPK Malaysia is pleased to announce that we are continuing with the training and education of personnel in shopping centres for the second half of 2018. The courses have been endorsed by Malaysia Retailers Association, (MRA), Malaysia Retail Chain Association (MRCA), Real Estate and Housing Developers Association (REHDA) and FIABCI Malaysia.
The dates, time and venue for the respective modules are as below:
| | | |
| --- | --- | --- |
| Module | : | Marketing and Leasing (Part 1 & 2) |
| Date | : | Monday, 6 August 2018 – Wednesday, 8 August 2018 (3 Days) |
| Venue | : | Ritz Carlton Kuala Lumpur, Jalan Imbi, Kuala Lumpur |
| | | |
| --- | --- | --- |
| Module | : | Operations & Maintenance (Part 1 & 2) |
| Date | : | Thursday, 9 August 2018 – Saturday, 11 August 2018 (3 Days) |
| Venue | : | Ritz Carlton Kuala Lumpur, Jalan Imbi, Kuala Lumpur |
Note: Part 1 and 2 for the 2 modules, Marketing & Leasing and Operations & Maintenance are repeat courses for those who did not manage to participate during the previous occasions. As for Part 3 (Final Part) of the abovesaid modules will be conducted at the same time for participants who have already completed Parts 1 & 2. (A separate schedule/invitation will be forwarded to qualified participants in due course.)
For more information, and to register for the above said courses, please click here
---
We are pleased to inform members that we shall be commencing with our Education Series 2018 which will be a continuation of our 2017 session, focusing on more in-depth tenancy administrative components in shopping mall management. Our 1-day seminar looks at the Practical Solutions to Legal Problems (Tenancy) Part 2 and will be held as follows:
Date: Monday, 2 July 2018
Time: 9.00 am to 5.00 pm
Venue: The Gardens Hotel & Residences, Mid Valley City, Lingkaran Syed Putra, Kuala Lumpur
Fees: RM1,200 per pax for members
Topics to be presented at the seminar will include explore in-depth presentations on the Legal Study of tenancies, recovery of outstanding rental and eviction, negligence etc. Of particular interest will be litigation case studies on tenancy issues.
Our speaker is Dato Joshua Kevin Sathiaseelan @ Joshua Kevin, the founder of Kevin & Co. He practiced law for a decade in Messrs. Syed Alwi, Ng & Co, where he held office as a partner before he established his own firm. During this tenure, he was the person-in-charge for Criminal, Civil and Banking Litigation alongside with the other partners of the firm. In addition to being active in the legal practice, he lectures law at private colleges, Kemayan ATC and HELP University. Joshua Kevin has also lectured on land law, business law and company law at numerous talks, seminars and various organisations, besides being the author of several law text books.
Please refer HERE for further details of the seminar programme.
Interested participants are requested to register with us before the closing date of Friday 22 June 2018. As this will be run workshop-style, seats are limited to a maximum of 40 pax on a first-come-first-served basis. There will be no cancellation or refunds after your names are registered with us but replacements are acceptable.
---