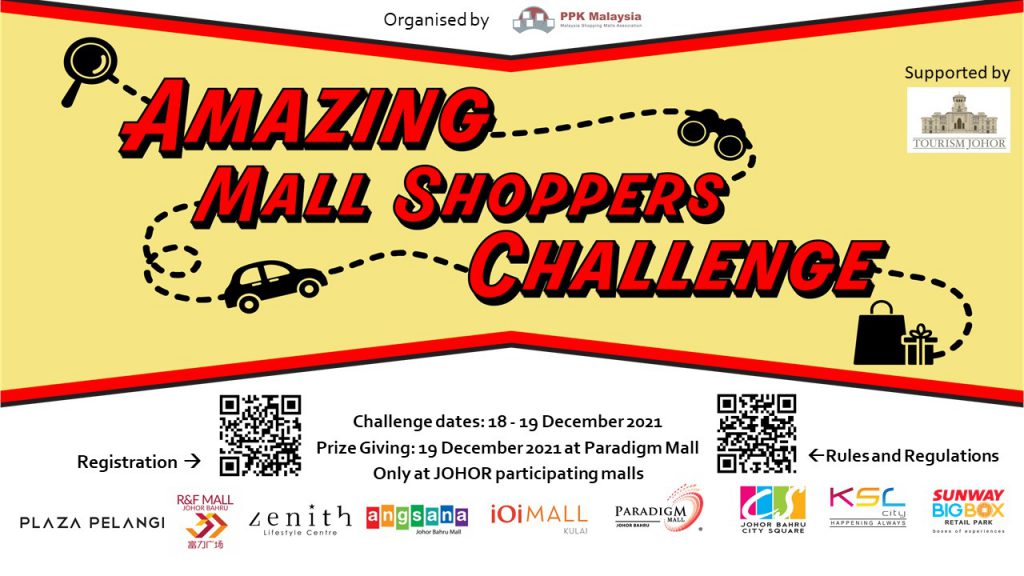 Dates: Saturday 18 December to Sunday 19 December 2021 (Challenge dates)
Prize-giving : Sunday 19 December 2021 from 4.30pm to 6.30pm at Paradigm Mall Johor, Convention Centre Level 7, Jalan Bertingkat Skudai, 81200, Johor
RULES AND REGULATIONS
1. AMSC is organised for all participating malls in JOHOR only.
2. AMSC will be open to ALL shoppers/individuals in Johor, aged 18 years and above.
3. Only fully vaccinated individuals with "low risk" or "casual contact low risk" as determined by MySejahtera are permitted to join AMSC. In the event the individuals' MySejahtera status is flagged otherwise which prohibits entry to the mall at any time during the challenge dates, then the team will automatically be disqualified.
4. Each team will consist of maximum 2 individuals and each team must have a name. The 2 team members must be the same individuals throughout the 2 days of the Challenge.
5. The briefing for AMSC will be done virtually and will be conducted using Zoom/Teams Meetings. It is the responsibility of all participants to have this app downloaded and/or to ensure your accessibility for same. This Challenge Virtual Briefing is scheduled on Wednesday 15 December 2021 from 8.30pm to 9.30pm during which, the details, AMSC Link and format of AMSC will be provided.
6. At least 1 team member must attend the Challenge Briefing and they shall be responsible for disseminating all information provided at the Briefing to all other team member(s).
7. All communications from the organiser or Challenge Organiser to the team will be made to the Team Leader. Therefore, kindly determine the name of the Team Leader in your registration with all the necessary information completed in full.
8. AMSC will be carried out among participating malls in JOHOR. Each team must provide their own vehicle/transport and bear their own travelling costs eg petrol, tolls etc.
9. Both team members must wear T-shirts of the same colour on the days that they are visiting the participating malls.
10. Both team members must report to the participating mall's concierge/information counter displaying the AMSC banner / logo. They will have to show the screenshot of their confirmed online entry to collect their goody bags.  Only 1 goody bag will be given to each team member at each of the participating malls.
11. The participating Malls in Johor are:
·        Day 1 – Saturday 18 December 2021: Angsana Johor Bahru Mall / IOI Mall Kulai / Plaza Pelangi / R&F Mall / Zenith Lifestyle Mall  (between 10.00am to 8.00pm)
·        Day 2 – Sunday 19 December 2021: JB City Square / KSL City Mall / Paradigm Mall JB / Sunway Big Box (between 10.00am to 3.00pm)
12. Participants may visit the above malls at their own time between the time slots abovementioned and in no particular sequence, but only on the designated dates. To qualify for prizes, participants must visit ALL of the abovementioned malls.
13. All AMSC submissions for each of the abovementioned dates must be submitted at the end of each of the relevant dates latest by 9pm.
HOW TO JOIN THE AMAZING MALL SHOPPERS CHALLENGE (AMSC)
14.  Entries will be open from Wednesday 17 November 2021 and all entries must be submitted to this link:  https://forms.gle/39LSjseVA7w58GKJ9
       Entries will only be confirmed with the attachment/upload of your entry fee as abovementioned.
       Closing date: Monday 13 December 2021 on a first-come-first-served basis, subject to a maximum no. of 100 teams, whichever comes first.
15. The entry fee will be RM30.00 per team. This needs to be banked into CIMB Account 8002636850 a/c payee PERSATUAN PENGURUSAN KOMPLEKS MALAYSIA (PPK) and submitted together with your entry form.
16. Employees of participating malls will not be allowed to participate in AMSC.
 17.  PRIZES will be awarded per team as follows:
–       Champion Team: RM1,000.00 cash + prizes in kind
–       2 runner up Teams: RM800.00 cash + prizes in kind
–       10 consolation prizes: RM200.00 cash + prizes in kind
18.  Prizes will be awarded to the top 13 teams as above with the most points earned. In addition, there will be other novelty prizes (if any) that will be announced later during the Challenge briefing.
19. Each team can only win one (1) prize and must be present at the prize-giving on Sunday 19 December 2021, failing which prizes will be given away to the next team in line. However, in view of crowd control under the current SOPs, only 1 representative from each team will be permitted to attend the prize-giving. Any additional representatives will be permitted at the discretion of the organiser.
20. The team that scores the highest points in the AMSC less penalty points incurred will be declared the winner and all subsequent positions will be determined on the same basis.
21.  In the event of a tie in the AMSC, tiebreakers shall be as announced to the participants at the abovementioned Challenge Briefing.
22. The organizer, Challenge Manager and the participating malls will not be held liable or responsible for any injuries, property damage or loss, or death or other consequences that may result from your participation during the said 3 challenge days.
23. Notwithstanding the above, the organizer undertakes to purchase a Personal Accident policy for each team member.
24. By submitting the entry form, all participants are deemed to be agreeable to the Rules and Regulations of AMSC as abovementioned.
OTHER RULES AND REGULATIONS
25.  The organiser reserves the right without assigning any reason thereof to:
a) make any changes, abandon, cancel or postpone AMSC as deemed necessary;
b) reject any Entry whether before or after the acceptance thereof;
c) disqualify and/or impose penalty points on any team found to have been guilty of:
· the breach of these Rules and Regulations,
· collaboration with other team(s) or cheating in any manner, or providing a false Declaration.
26. All decisions made by the organiser pertaining to AMSC will be final and no correspondence and/or appeals will be entertained.
27. Any materials of whatsoever nature in relation to AMSC (whether submitted as a treasure in AMSC or otherwise) shall belong to the Organiser and no participant shall have any claim thereto.
28. The Organiser shall be entitled to use any materials derived from AMSC in any form or for any purpose that it deems fit.
29. All participants may be photographed in the course of their visits to the participating malls and these photographs may be used by the organizer and the participating malls at their discretion. We would request that all photographs posted on social media to be tagged #PPKAMSC.
30. Privacy Notice
a) The information collected in this registration form and any other information on you obtained from other available sources (collectively "Personal Data") shall only be used by the organiser and its authorised servants, to register your participation in AMSC, to organize and administer AMSC, to create directories or databases, to provide ongoing information about events and programs, to research, develop and improve the organiser's events, programmes, products and services, to provide other related services, and for any other purpose that is incidental or ancillary or in furtherance to the aforementioned purposes.
b) Failure to supply the Personal Data as requested will result in the organiser  being unable to process your registration.
c) Your Personal Data may be disclosed by the organiser to any relevant agent, contractor or third-party service provider who provides administrative, telecommunications, computer, payment, management, audit, insurance, professional or other services related to AMSC.
d) By providing to the organiser your Personal Data, you hereby consent to the processing of your Personal Data in accordance with all the foregoing.
e) These Rules and Regulations may be added to or amended at the discretion of the organiser. These Rules and all additions and amendments thereto, the interpretation thereof and the decision of PPKM in all matters concerning AMSC shall be final and binding on all participants. Any protests will not be entertained under any circumstances.
The organiser assures that all participants' database information provided are protected under the Personal Data Protection Act 2010 (PDPA) and will not be used for other purposes except for the organiser's activities.
HAPPY HUNTING AND SHOPPING !
~ STAY SAFE ALWAYS AT ALL TIMES ~
| | |
| --- | --- |
| Another event organised by: |   |
---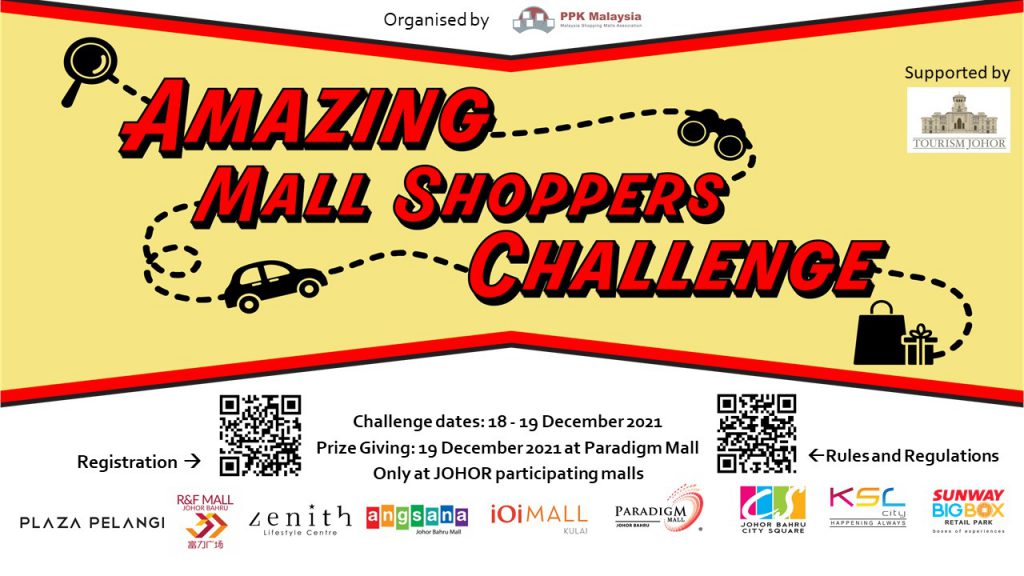 JOM ! calling everyone in JOHOR to join our Amazing Mall Shoppers Challenge (AMSC). Enjoy some fun at our 9 participating malls and win CA$H prizes at the same time !
Closing date: Monday 13 December 2021. AMSC is open only to maximum 100 teams on a first-come-first-served basis. Check out the Rules and Regulations HERE. Rules and regulations apply – to register, please go to : https://docs.google.com/forms/d/1o3bO08042R5sbdMvU8UJOrSGVApNiqfORSKCGp4s_uo/edit
---
In view of the current health safety scenario in Malaysia, PPKM will be offering our security and safety training programme next month where we will address current pertinent issues in shopping malls. The programme is focused on shopping mall operations and the importance of effectively trained security personnel as they are the front-liners in our malls, especially as they are now required to be gatekeepers to control the entry of all shoppers. Our training dates are as follows:
Dates: Wednesday 1 December and Thursday 2 December 2021
Time: 8.30 a.m. to 5.30 p.m. daily
Venue: Level 5, Cititel Hotel, Mid Valley City, Lingkaran Syed Putra, 59200 Kuala Lumpur
The 2-day training sessions, conducted annually since 2006, will equip security and safety personnel from guard/officer/supervisor/executive levels in the basic procedures and knowledge required for the daily operations of shopping malls. Our trainers are sourced from senior in-house security personnel of prominent member malls with extensive working experience both in shopping malls and previously in the police force, as well as specialists from the industry.
For more details, please click HERE and register at this link: https://forms.gle/2pMjxspKppojuwr98
---