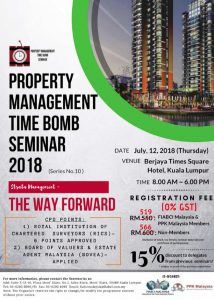 It's been 10 years since PPKM co-organised this popular seminar with FIABCI Malaysia and we are still getting enthusiastic response. Although regulations have been revised several times, participants are all eager to find solutions to their everyday and ongoing problems on strata management.
Date: Thursday, 12 July 2018
Time: 8.00 am to 6.00 pm
Venue: Berjaya Times Square Hotel, Kuala Lumpur
The seminar takes a close look at strata management from the viewpoints of both building owners and developers with speakers from the private and public sectors sharing case studies and their insightful experience with participants.
Details of the speakers and programme of the seminar will cover the following topics:
– Overview of Strata Management in Mixed Developments
– Registration of Property Managers – Impact on the Industry
– Strata Management – The Complex Case Studies
– Common Problems for Strata Property Owners – Case Studies
– Strata Titles – The Way Forward
– Common Problems for Strata Property Owners – is there self-help?
The seminar fees are as follows:
• Members of FIABCI Malaysia and PPK Malaysia : RM 519
• Non-members : RM 566
Specially for this 10th edition, we are having a discount of 15% off the above fees for delegates who have been supporting us over the past years and have attended the previous series (subject to proof of the previous registration); so do not delay, please do avail yourselves of this attractive
offer immediately.
Interested participants are requested to register for same with FIABCI Malaysia soonest possible as seats are limited and will be available on a first-come-first-served basis. In the event you require further details, kindly email fiabcimalaysia@fiabci.com.my or call Tel: 03-6203 5090/91.
For more information, please click HERE to download the programme and the registration form.