Greetings to all participants ! Thank you for your support and attendance at our recent ENGINEERING SHOPPING MALLS IV seminar and you may now download the speakers' presentations as below link:
01 TJK – The Current Shopping Mall Scenario
02 ALVIN YAP Internet of Things
03 TAN CHIOO BIN The Challenge of Perfect ACMV Systems for Tenants & Landlords
04 LOO CHEE KIN Flood Abatement for Buildings
05 YL LUM Despicable Me – Operational & Engineering Considerations for Stratified Shopping Malls
06 RAGHIB AZMI – Make Your Lifts & Escalators Young Again
07 PAMY WONG M&E Requirements in Fit Out Designs
08 DING JU LIANG How Does BIM Benefit Shopping Mall Stakeholders
We look forward to meet you again soon during our upcoming events so do check out our website from time to time. Wishing you warm Seasons Greetings and a great start to Year 2020 !
---
WE'RE BACK TO BANGKOK'S SHOPPING MALLS!
As the world's most visited city, Bangkok remains the evergreen shopping destination in Asia. Our Study Group of 32 participants visited its vibrant malls from 23-26 September 2019 and had a most fruitful trip, traipsing through 10 shopping malls catering to all types of lifestyles and budget – from trendy and funky malls to the high end, upscale fashion and eclectic malls.
We visited pet-friendly malls where pets had their own club and get their own 'kiddy-rides' (!) at Central Festival Eastville to the latest world-class mall with an indoor floating market and river park at IconSiam. Other malls in the visit itinerary included Terminal 21 with its themed washrooms, Siam Paragon, Siam Discovery, Siam Center, Central World, Central Embassy, Emquartier and Emporium. Our grateful thanks to the Bangkok malls who hosted us and gave an insightful briefing on what makes the malls tick ..
Do take a look at our thumbnails of Bangkok Malls here.
---
With the rapid growth of malls in the region, competition amongst malls is keen and all vie to attract shoppers by offering "experiential shopping" and in recognition of our malls' efforts,  the inaugural CASC-PPKM AWARDS 2019 for BEST EXPERIENTIAL MARKETING was organized in conjunction with CASC Conference 2019. The total of 61 entries were shortlisted to 26 finalists, with 2 winners in each category, as well as Certificates of Honourable Mention awarded to outstanding malls.
CONGRATULATIONS TO ALL WINNERS !
CASC-PPKM AWARDS 2019 – BEST EXPERIENTIAL MARKETING – WINNERS
 CATEGORY A: 500,000 sq ft nett lettable area (NLA) and below
GOLD – Lee Tung Avenue, Hong Kong: The Spirit of Christmas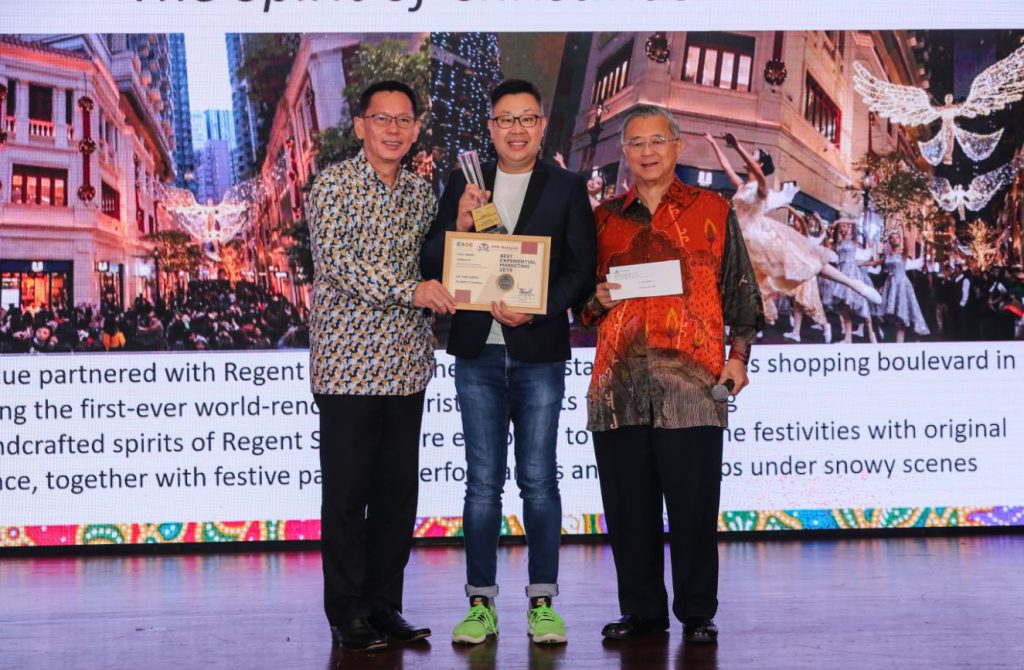 Lee Tung Avenue partnered with Regent Street of The Crown Estate, the famous shopping boulevard in London, to bring the first-ever world-renowned Christmas lights to Hong Kong.
Five iconic handcrafted spirits of Regent Street were exhibited to celebrate the festivities with original British ambience, together with festive parades, performances and workshops under snowy scenes.
SILVER – China Hong Kong City, Lee Tung Avenue, Hong Kong: The Moon Rabbit Lumiere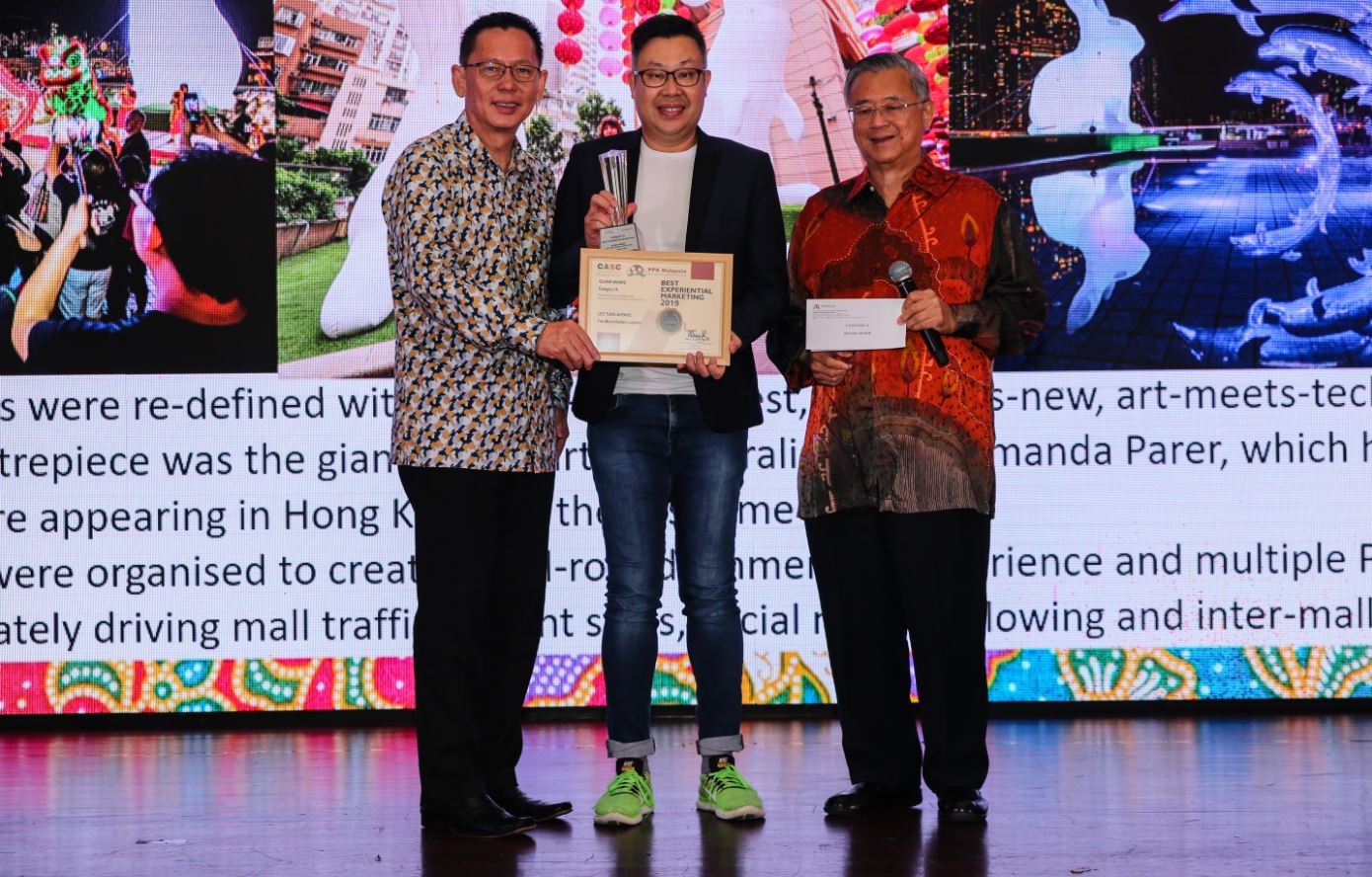 Festive celebrations were re-defined with an East-meets-West, old-meets-new, art-meets-technology chemistry. The centrepiece was the giant rabbit art by Australian artist Amanda Parer, which had toured in over 80 cities before appearing in Hong Kong for the first time.
Spin-off activities were organised to create an all-round, immersive experience and multiple PR touchpoints, ultimately driving mall traffic, tenant sales, social media following and inter-mall synergy.
CERTIFICATE OF HONOURABLE MENTION – Intermark Mall, Kuala Lumpur: En'Chanting' Raya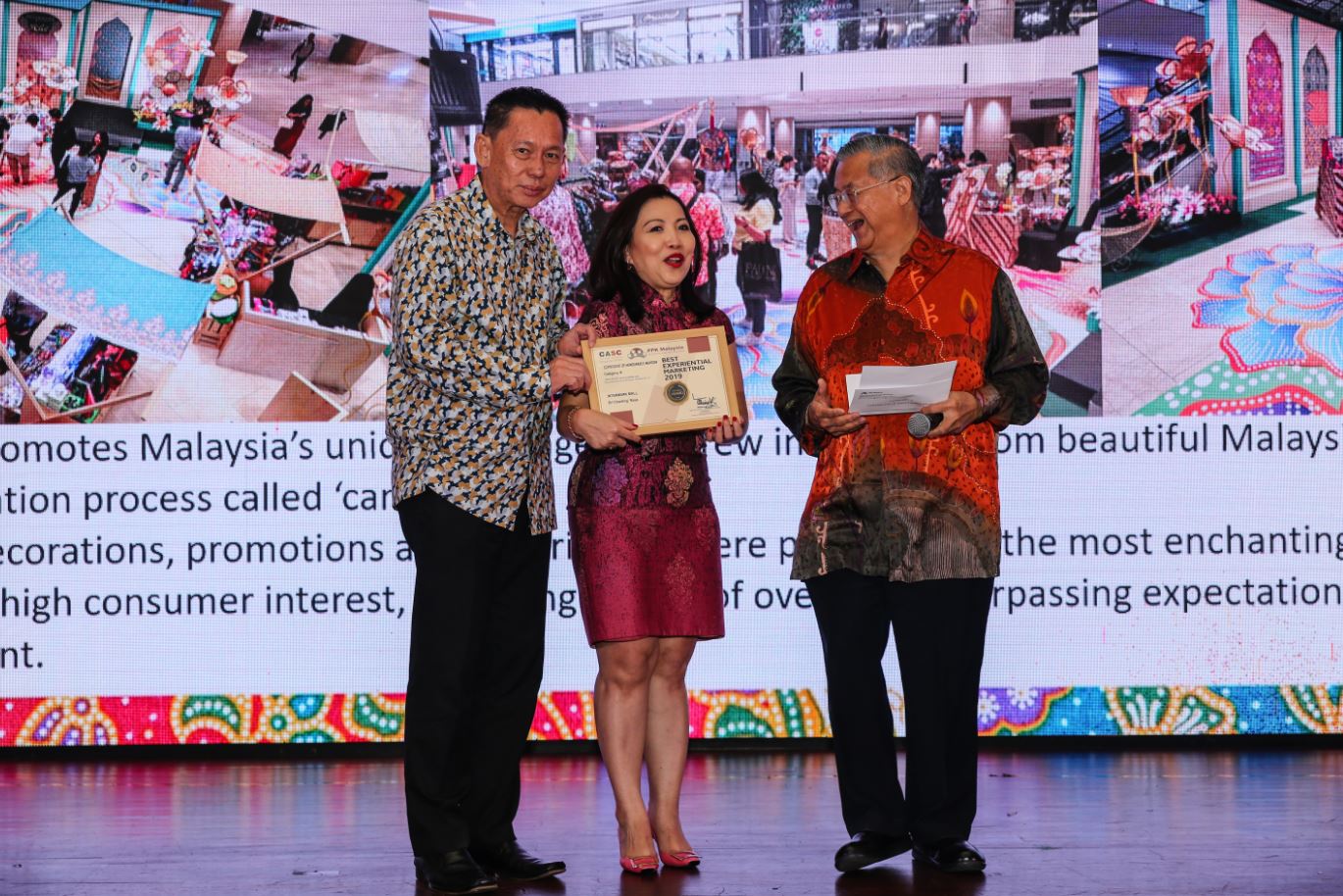 The mall promotes Malaysia's unique heritage and drew inspiration from beautiful Malaysian textile 'batik' and its creation process called 'canting'.
The mall decorations, promotions and experiences were presented in the most enchanting manner, generating high consumer interest, achieving an ROI of over 300%, surpassing expectation of the management.
CATEGORY B: 500,001 to 999,999 sq.ft. nett lettable area (NLA)
GOLD – Jing'an Joy City, Shanghai: Sky Ring x Line Friends Limited Love Paradise
The icon SKY RING of Jing'an Joy City is the first cantilevered roof Ferris wheel in China, marketed with the concept of "love".
In 2018, SKY RING joined hands with LINE FRIENDS to promote the first close collaboration and promotion for Ferris wheels in China.
GOLD – Sunway Putra Mall, Kuala Lumpur: IN THE WOODS FOR WONDER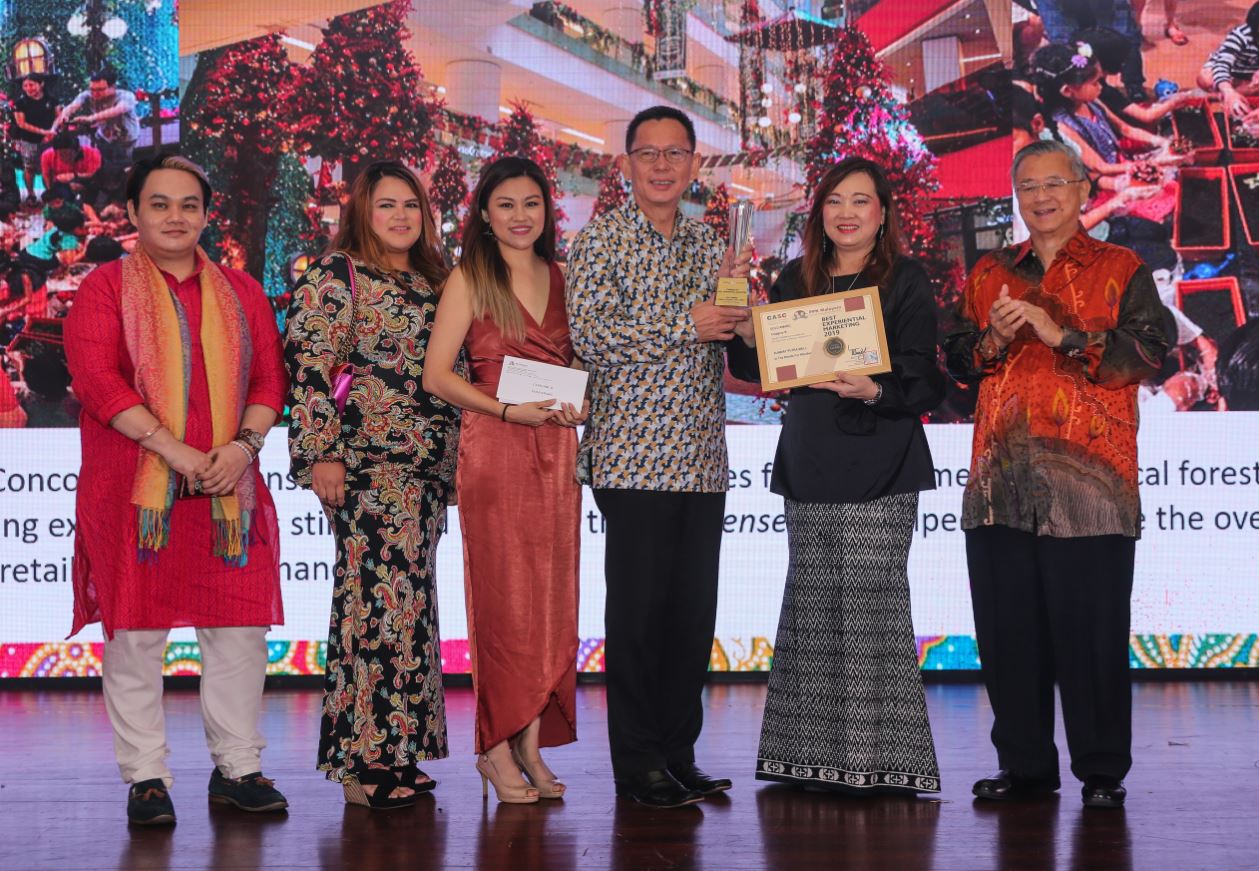 The Main Concourse was transformed into enchanted homes for the gnomes in a magical forest.
The shopping experience was stimulated through the five senses and helped to improve the overall mall traffic and retail sales performance.
CERTIFICATE OF HONOURABLE MENTION – Queensbay Mall, Penang: Enchanted Realm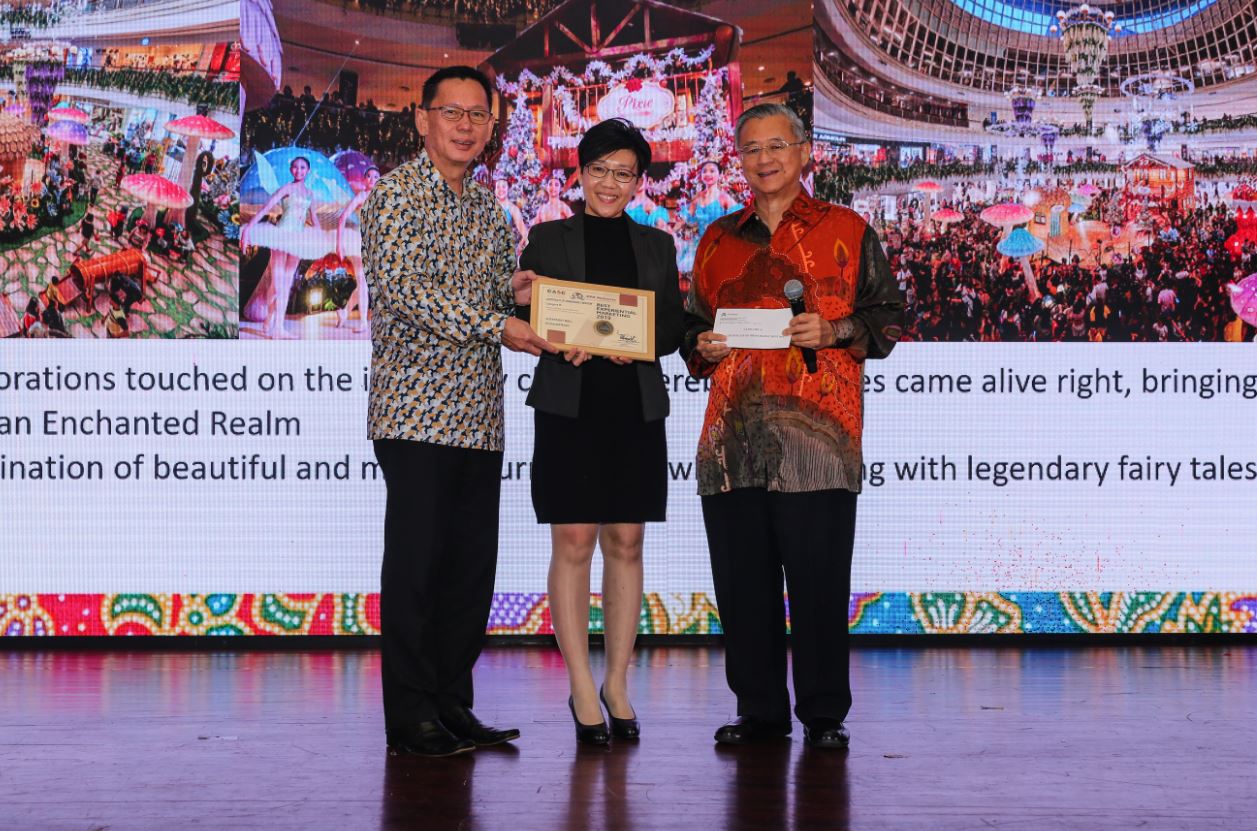 Christmas decorations touched on the imaginary chord whereby fairy tales came alive right, bringing shoppers into an Enchanted Realm.
A daring combination of beautiful and magical surrounding while engaging with legendary fairy tales.
CATEGORY C: 1 mil. sq ft nett lettable area (NLA) and above
GOLD – Pavilion Kuala Lumpur: Disney Celebrate The Magic: Dream Christmas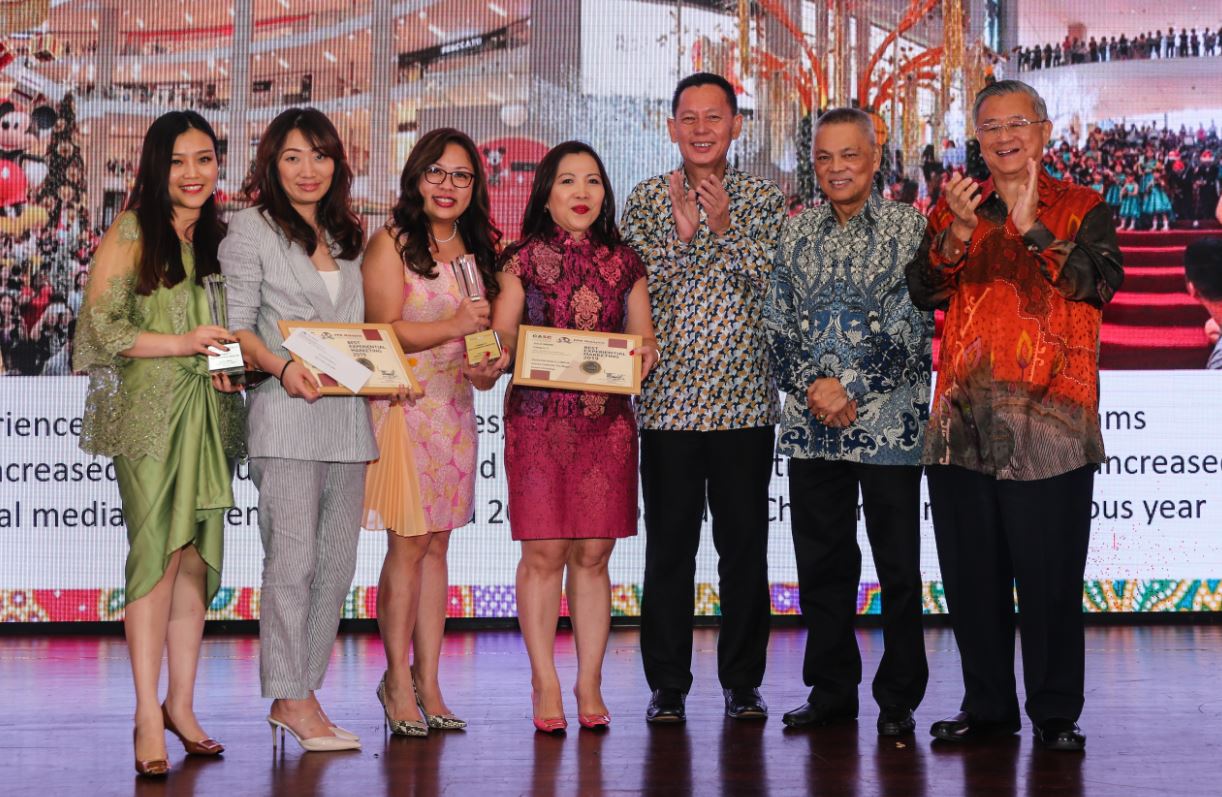 priceless experiences, personalised indulgences, amazing rewards and fulfilment of dreams.
Total visitors increased 20%, publicity increased 60%, redemption transactions/receipts increased 35% and social media engagement increased 20% compared to Christmas in the previous year.
SILVER – Pavilion Kuala Lumpur: Dream Goals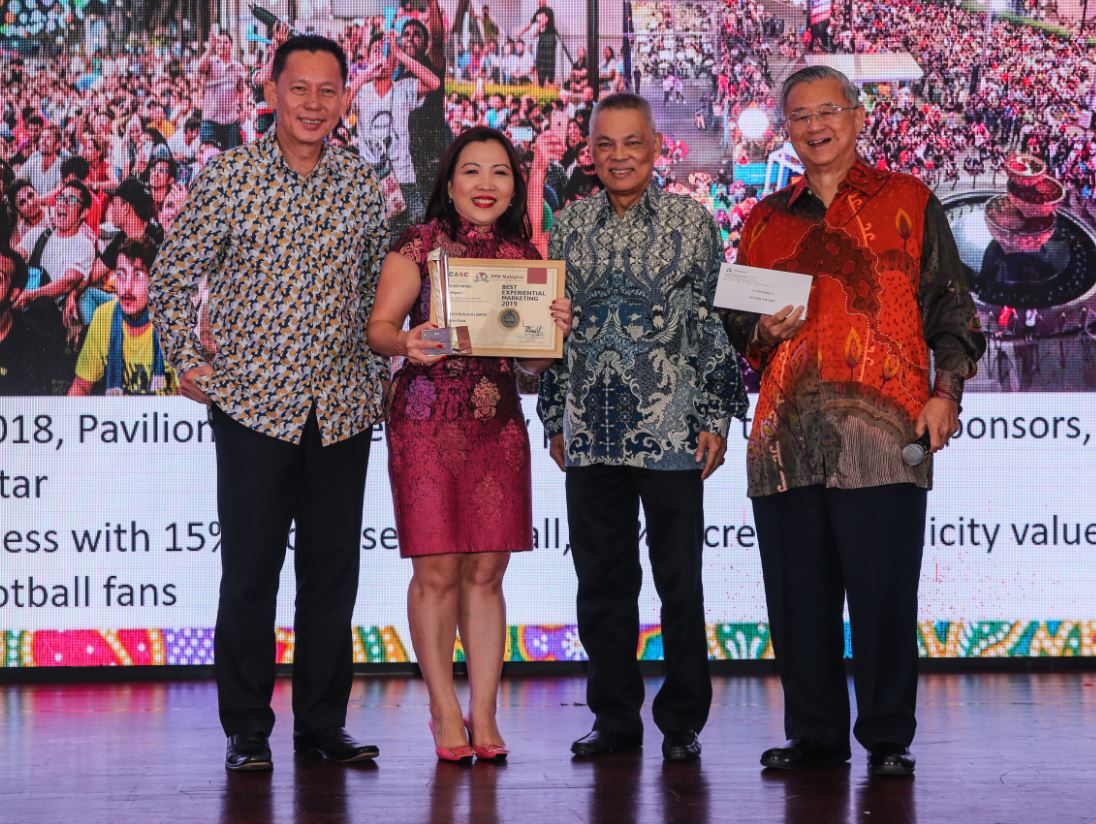 With FIFA World Cup being held in 2018, Pavilion KL strategized by partnering the global sponsors, brands and Malaysia's top newspaper, The Star.
The campaign was a resounding success with 15% increased footfall, 60% increased publicity value and it delivered a dream celebration for football fans.
CERTIFICATE OF HONOURABLE MENTION – Kota Kasablanka, Jakarta: The Longest & Tallest Hot Wheels Tracks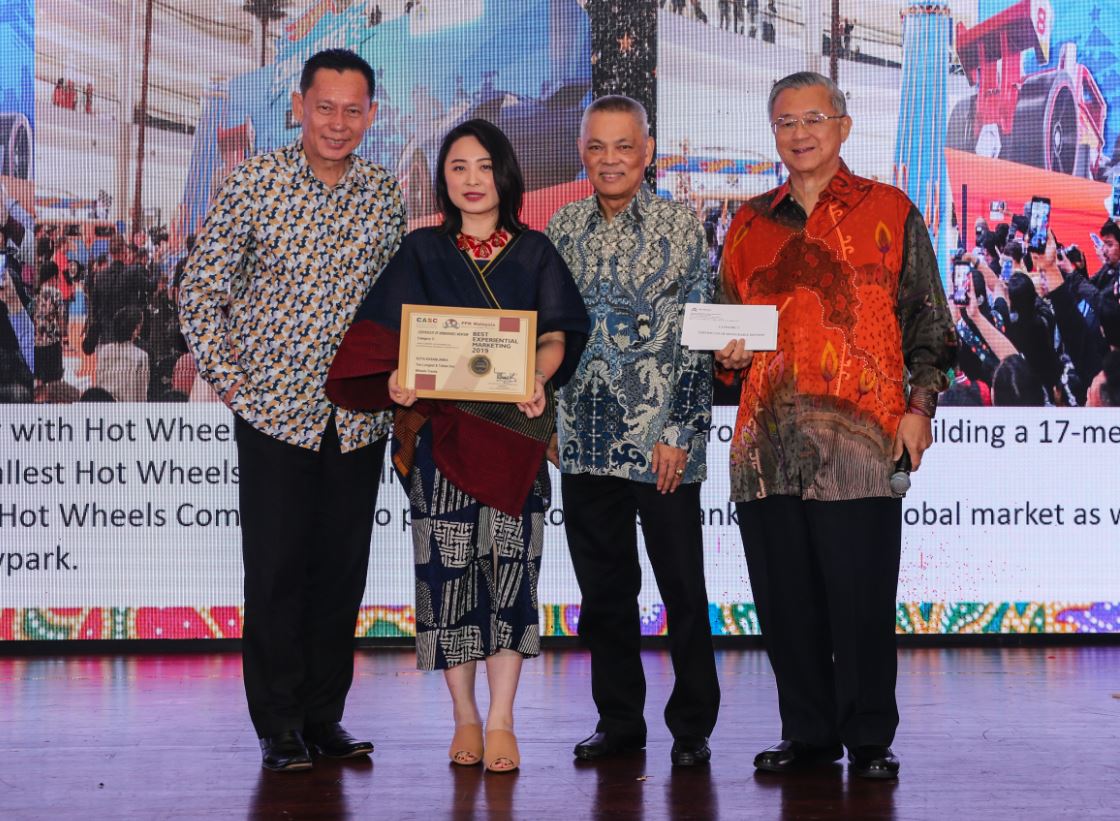 Kota Kasablanka worked together with Hot Wheels to bring an innovative holiday programme by building a 17-meter indoor tracks – the Longest and Tallest Hot Wheels tracks in Indonesia.
They also hosted South East Asia Hot Wheels Competition to promote Kota Kasablanka into the global market as well as to offer children a physical playpark.
---
COUNCIL OF ASIAN SHOPPING CENTERS (CASC) CONFERENCE 2019

JW Marriott Kuala Lumpur, 10 – 12 September 2019
We have successfully concluded CASC Conference 2019, the annual regional conference involving industry experts from the Council of Asian Shopping Centers (CASC). PPK Malaysia hosted the conference this year and convey our thanks to all our speakers, sponsors and for the strong participation by members and other delegates as well as the impressive and eye-opening presentations by our well-experienced and eminent speakers from Malaysia, Indonesia, Hong Kong, China, Taiwan, Korea, Thailand and Singapore.
Our Guest of Honour is YB Tuan Muhammad Bakhtiar b Wan Chik, Deputy Minister of Tourism, Arts and Culture who delivered the keynote paper focusing on shopping tourism and with Visit Malaysia Year 2020, we look forward to more tourist arrivals next year as well as bigger returns in the shopping industry.
With the theme 'The Now and The Future' – The Mall Story, the conference covered trends and innovations and included several panel discussions covering Future-proofing Retail, Entertainment and F&B,  Online Stories and the Shopping Malls' Journey of Regeneration.
Please click here for pics and Looking forward to CASC Conference 2020 in China !
---
STUDY TRIP 2019 TO BANGKOK : Monday 23 September 2019 – Thursday 26 September 2019 (4D/3N)
We are pleased to announce the short haul Study Trip 2019 will be as abovementioned, to BANGKOK, the evergreen shopping destination in Asia. With its vibrant malls catering to all types
of lifestyles and budget, ranging from the trendy and funky malls to the high end, upscale and eclectic fashion malls, shoppers are more than spoilt for choice.
Our Study Trip will visit  several of exciting malls such as Terminal 21, Central Festival Eastville, Central Embassy, Siam Paragon, Siam Discovery, Siam Centre, Emporium, Em Quartier, Asiatique, CentralWorld, Gateway Ekamai, ICONSIAM for participants gather the shopping experience in building design and layouts, marketing events, merchandise mix etc.
Kindly note that the entire trip will only be confirmed subject to the required minimum no. of participants and/or flight/hotel availability etc. and on a first-come-first-served basis. We shall keep you posted in due course of further confirmed details concerning the detailed itinerary etc. Kindly also be informed that the organizer reserves the right to revise details of the Study Trip (including departure dates and flight carriers) subject to availability and solely at our discretion.
For more information, please click HERE to download the circular and registration form or contact our secretariat at Tel: 03-7727 6202.
---
We are pleased to present the next TTT on EE and Solar solutions for commercial buildings (including shopping malls) by CENERGI. Their ESPA&PPA model will be able to reduce energy
usage (cost) and provide environmental benefits. It allows building owners to achieve energy savings without upfront capital expenses and zero operating risk (ZERO COST, ZERO RISK).
Additionally, it is able to reduce carbon footprint, electricity usage and build a clean & less polluted environment. The focus is to recommend the most cost-effective energy solutions to provide clientswith optimal long-term project performance and exceptional results.
Interested to know more? Please join us as follows:
Date: Wednesday, 24 July 2019
Time: 2.00 pm – 4.00 pm
Venue: Common Ground, Citta Mall, Ara Damansara
The agenda will be as follows:
Energy Efficiency Solutions by Mr Vemal; who is a registered Electrical Energy Manager (REEM) under Energy Commission (EC) and Certified Professional Measurement & Verification (CPMV) under Greentech Malaysia.
Solar Solutions by Mr Prakash; who has over 15 years of experience in the energy sector during which he obtained Grade 1 Internal Combustion Engine Engineer's Certification by
DOSH & ISO9001 Lead Auditor by SIRIM. As a registered Professional Engineer with a Practicing Certificate with BEM, he is also a Certified Grid Connected Photovoltaic System
Design Engineer with SEDA.
For more information, please click HERE to download the programme and the registration form. Interested participants are requested to register with us before the closing date of Friday, 12 July  2019.
---
PPK Malaysia is pleased to announce that we are continuing with the training and education of personnel in shopping centres for the second half of 2019 which have been endorsed by Malaysia Retailers Association, (MRA), Malaysia Retail Chain Association (MRCA), Real Estate and Housing Developers Association (REHDA) and FIABCI Malaysia.
The dates, time and venue for the respective modules are as below:
| | | |
| --- | --- | --- |
| Module | : | Marketing and Leasing (Part 1 & 2) |
| Date | : | Monday, 5 August 2019 – Wednesday, 7 August 2019 (3 Days) |
| Venue | : | Pavilion Hotel Kuala Lumpur,Jalan Bukit Bintang, Kuala Lumpur |
| | | |
| --- | --- | --- |
| Module | : | Operations & Maintenance (Part 1 & 2) |
| Date | : | Thursday, 8 August 2019 – Saturday, 10 August 2019 (3 Days) |
| Venue | : | Pavilion Hotel Kuala Lumpur,Jalan Bukit Bintang, Kuala Lumpur |
Note: Part 1 and 2 for the 2 modules, Marketing & Leasing and Operations & Maintenance are repeat courses for those who did not manage to participate during the previous occasions. As for Part 3 (Final Part) of the abovesaid modules will be conducted at the same time for participants who have already completed Parts 1 & 2. (A separate schedule/invitation will be forwarded to qualified participants in due course.)
For more information, and to register for the above said courses, please click here
---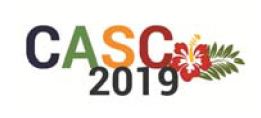 Greetings ! We are pleased to remind members and associates that further to our previous announcements, conference registrations under early bird fees has now been extended to 30 June 2019.
CASC Conference 2019 is an annual regional conference involving industry experts from member countries like Malaysia, Indonesia, Hong Kong, China, Taiwan and Japan. Participants will gain valuable insights of the shopping mall industry from these countries and it would be a prized opportunity for networking with the regional expertise including mall management as well as prominent retailers.
The 2019 Conference is supported and endorsed by our CASC affiliates like Asosiasi Pengelola Pusat Belanja Indonesia (APPBI), Institute of Shopping Centre Management (ISCM) from Hong Kong, Mall China, Japan Council of Shopping Centers and Taiwan Council of Shopping Centers (TCSC).
Themed 'The Now and The Future' – The Mall Story, the conference will focus on stories and case studies from malls and retailers from around the region and delegates will be able to pick up useful tips in shopping mall management especially from recently opened malls.
Click here for more details and online registration before the early bird closing date of 30 June 2019
---
Following the enthusiastic response from our members to PPKM's awards the previous 3 years, we are pleased to announce that we shall be organising the same awards for 2019 but this will be upgraded to CASC-PPKM AWARDS 2019 – 'BEST EXPERIENTIAL MARKETING' as it is now organized in conjunction with CASC Conference.
Basically, this means that PPKM member malls will submit their entries as usual, but will compete together on a regional level with other malls in CASC member countries like Taiwan, China, Hong Kong, Indonesia, and Japan. We are proud to acknowledge and recognize our member malls' tremendous marketing efforts for shoppers to enjoy a great experiential time at our malls throughout the year and hope to showcase the best of Malaysian malls.
CASC-PPKM AWARDS 2019 – 'BEST EXPERIENTIAL MARKETING' will be based on the same principles as indicated below :
The award will be categorised based on the following :
Category A: Malls with nett lettable area (NLA) of 500,000 sq ft and below
Category B: Malls with nett lettable area (NLA) of 500,001 sq ft to 999,999 sq ft
Category C: Malls with nett lettable area (NLA) of 1,000,000 sq ft and above
Description of Entry
Marketing entries must cover programmes organised between 1 July 2018 to 30 June 2019.
Malls can submit several entries but each entry must be completed on a separate form.
The cost for each entry is RM530.00 (US$150) which is non-refundable.
Please complete the Entry Form together with your payment online. Thereafter, you will receive a confirmation document for your registration(s) together with the submission link. No confirmation will be issued until payment has been received.
You may only upload your submissions on or from 1 July 2019 onwards.
All entries must be submitted at the said link for judging by the closing date of 12 midnight on 15 July 2019. Technical support during your submission process is available at info@nd.com.my Tel: +6019 857 1893.
Judging for all entries will be done by a Panel of Judges comprising reputable industry practitioners from CASC member countries.
There will be one (1) Gold and one (1) Silver Award for each of the three (3) categories. If there is no eligible entry, the judges may reserve the right not to grant any awards.
Award Finalists will be announced latest by 16 August 2019. The Award Winners will be announced and presented during our forthcoming CASC Awards/Conference Gala Dinner to be held on 10 September 2019 at JW Marriott Kuala Lumpur.
For your reference, please access this link for the complete Entry Rules and regulations http://casc-ppkmawards2019.com
In the meantime, please note that interested participants may pre-register with us online at the above and remit your registration fee from now onwards. You may also start collating materials now for your online submission which is only available between 1-15 July 2019.
Therefore, with this notification, you may now start your internal preparations and documentations. We would strongly encourage all members to participate as this would be an excellent learning platform amongst shopping malls in our region and we look forward to your entry and more experiential shopping together !
---
Further to our ongoing training on security and safety in shopping malls which has been conducted annually since 2006, we are pleased to inform that we have now developed an ADVANCED MODULE which will be conducted as a 2-day security training seminar as follows:
Dates: 26 June 2019 (Wednesday) to 27 June 2019 (Thursday)
Time: 8.30 a.m. to 5.30 p.m. daily
Venue: Level 5, Cititel Hotel, Mid Valley City, Lingkaran Syed Putra, 59200 Kuala Lumpur
Amongst other pertinent topics, the new ADVANCED MODULE will cover in-depth studies on the following:
Organisational Structure for Security Personnel
Crime Prevention through Environmental Design (CPTED)
Mitigating Terrorism in Shopping Malls
Effective and Efficient Car Park Operations
Our trainers are competent security personnel and current practitioners from several prominent shopping malls who will share their experiences with participants. Through this course, it is our mission and goal that all senior security personnel will take the opportunity to expose themselves to more comprehensive practices in this very specialised field.
For more information, please click HERE to download the programme and the registration form. Interested participants are requested to register with us before the closing date of Monday, 10 June 2019.
---