We wish to inform members that the new travel dates will now be from 5-12 November 2017. This is because it has just been announced that CASC Conference 2017 will be held in Hong Kong from 18-20 October (which was our original travel dates). Therefore, the new dates have been fixed accordingly so that Mall China (our China counterpart) will be able to make arrangements host our group in Beijing and Shenyang. Due to this, the closing date has now been extended to Monday, 28 August 2017.
For more information, please click HERE to download the revised programme and the registration form.
---
We are pleased to announce our long haul study trip for 2017 to CHINA, specifically to Beijing and Shenyang. The 8D/6N trip will take place from 15 to 22 October 2017.
China is well known as a shopping paradise and over the past years, malls have been proliferating, with more mall space under construction in a single Chinese city compared to those in Europe. These cities include the 1st, 2nd and even 3rd tier cities and China now has nearly 4,000 shopping malls. In both Beijing and Shenyang (a Tier 2 city), the shopping malls' merchandise mix ranges from super high end, branded boutiques to the mass brands. Most malls have their own unique selling points(USP) and may specialize in entertainment, lifestyle and flamboyant mall designs etc.
We hope to visit several of exciting malls such as the APM, Capitaland Mall (Xizhimen), China World Mall, Chaoyang Joy City, Seasons Place, Parkview Green Fangcaodi, Xidan Joy City, Zhongliang Joy City Mall, MixC Shopping Mall, Forum 66, Star Mall Shenyang Plaza, and Happy Family Mall and focus on their building design and layouts, and to learn about their marketing events etc.
Kindly note that the entire trip will only be confirmed subject to the required minimum no. of participants and/or flight/hotel availability etc. and on a first-come-first-served basis. We shall keep you posted in due course of further confirmed details concerning the detailed itinerary etc. Kindly also be informed that the organizer reserves the right to revise details of the Study Trip (including departure dates and flight carriers) subject to availability and solely at our discretion.
In the meantime, Interested participants may contact our secretariat at Tel: 03-7727 6202 for further information.
---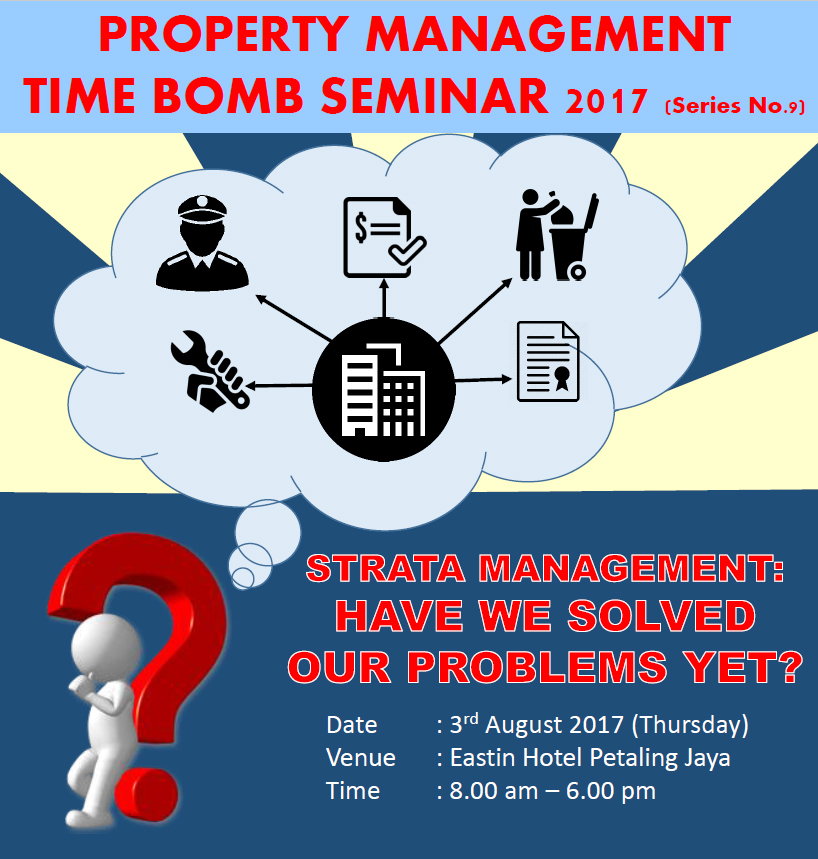 We are pleased to inform members that we shall be again co-organising the above continuing series of seminars on strata management with FIABCI Malaysia. This seminar in Series 9 is themed Strata Management – Have We Solved Our Problems Yet ? and it will present topics on the current situation in strata management since implementation of the STRATA MANAGEMENT ACT (SMA) 2013 and the Strata Management (Maintenance and Management) Regulations 2015 which have been effective since 1 June 2015.
The seminar brings together prominent industry players, property practitioners and representatives from relevant associations/bodies from both the public and private sectors who will share insightful experience with participants.
Details of the programme will cover the following topics:
• Strata Management Act (SMA) – Issues and Solutions
• Updates on the Tribunal
• Strata Management of Mixed Developments
• Strata Management Act (SMA) – The Reality, Problems and Solutions
• Update on the Existing Legal Implications on JMBs/MCs
• Strata Management in Singapore
• Strata Management from a Developer's Viewpoint
• Managing Phases in a Mixed Development Project
The seminar fees are as follows:
• Members of FIABCI Malaysia and PPK Malaysia : RM 477 (inclusive of GST)
• Non-members : RM 583 (inclusive of GST)
Interested participants are requested to register for same with FIABCI Malaysia soonest possible as seats are limited and will be available on a first-come-first-served basis. In the event you require further details, kindly email fiabcimalaysia@fiabci.com.my or event@fiabci.com.my or call Tel: 03-6203 5090/91.
For more information, please click HERE to download the programme and the registration form.
---
PPK Malaysia is pleased to announce that we are continuing with the training and education of personnel in shopping centres for the second half of 2017. The courses have been endorsed by Malaysia Retailers Association, (MRA), Malaysia Retail Chain Association (MRCA), Real Estate and Housing Developers Association (REHDA) and FIABCI Malaysia.
The dates, time and venue for the respective modules are as below:
| | | |
| --- | --- | --- |
| Module | : | Marketing and Leasing (Part 1 & 2) |
| Date | : | Monday, 7 August 2017 – Wednesday, 9 August 2017 (3 Days) |
| Venue | : | Sunway Resort & Spa, Bandar Sunway, Petaling Jaya |
| | | |
| --- | --- | --- |
| Module | : | Operations & Maintenance (Part 1 & 2) |
| Date | : | Thursday, 10 August 2017 – Saturday, 12 August 2017 (3 Days) |
| Venue | : | Sunway Resort & Spa, Bandar Sunway, Petaling Jaya |
Note: Part 1 and 2 for the 2 modules, Marketing & Leasing and Operations & Maintenance are repeat courses for those who did not manage to participate during the previous occasions. As for Part 3 (Final Part) of the abovesaid modules will be conducted at the same time for participants who have already completed Parts 1 & 2. (A separate schedule/invitation will be forwarded to qualified participants in due course.)
For more information, and to register for the above said courses, please click here
---

On behalf of the International Council of Shopping Centers (ICSC), we are pleased to inform members that ICSC Re-Con Asia Pacific 2017 will be held in Centara Grand & Bangkok Convention Centre, Bangkok, Thailand from 23-25 October 2017. This is the premier event for Asia Pacific's retail real estate leaders and this year, more than 500 senior executives from throughout the region are expected to participate.
The programme will feature a keynote presentation from The Disney Institute and will also include sessions on Retail Innovations, Food is the Future, Corporate Citizenship, The Hyperconnected Consumer, Tourism & Shopping, New Leasing Models and Generation Z.
RECon Asia-Pacific will also include the presentation of the 2017 ICSC Asia-Pacific Shopping Centre Awards and tours of Bangkok's leading shopping centres.
For more information, programme and agenda please click HERE.
---
PPK Malaysia is pleased to announce that in line with our MEMBERSHIP PROMOTION CAMPAIGNS 2017 to encourage new recruitment of corporate and individual members etc., the next promotion campaign will be as follows:
Campaign 2: 15 June to 31 Aug 2017
During the above promotion campaigns, the following will be applicable:
CATEGORY 1
Category of Membership

Entrance Fee (RM)

Promotion Entrance Fee (RM)

Annual
Subscription (RM)

Promotion Annual
Subscription (RM)
(NO changes)

TOTAL PAYABLE under Membership
Promotion Campaign (RM)

Ordinary Members

Corporate

5,300.00

3,180.00

2,120.00

2,120.00

5,300.00

Individual

1,060.00

530.00

212.00

212.00

742.00

Associate Member

106.00

84.80

84.80

84.80

169.60

Affiliate Member:

Corporate

1,060.00

848.00

1,060.00

1,060.00

1,908.00

Individual

318.00

212.00

212.00

212.00

424.00
CATEGORY 2
There will also be a SPECIAL Promotion for corporate memberships as follows:
existing corporate members who currently have more than one (1) membership may include additional shopping centres/buildings as new members by only paying an entrance fee of RM2,650.00 plus the Annual Subscription Fee of RM2,120.00 (total payment: RM4,770.00 inclusive of GST).
CATEGORY 3
In addition, a SPECIAL Promotion for individual membership will be as follows:
personnel who are currently employed by existing corporate members of the Association can now join as individual members and have the entrance fee WAIVED. Just pay the Annual Subscription Fee of RM212.00 (total payment: RM212.00 inclusive of GST) !
INCENTIVE
ALL current members are encouraged to inform their colleagues and/or associates of the above promotion campaigns as PPK Malaysia will offer to individuals (only) who are recommending the new applicant, an incentive payment amounting to 10% of the entrance fee paid, subject to approval of the membership application.
Please be reminded that personnel who wish to undertake the full programme of our Certification Courses in Shopping Mall Management comprising Parts 1, 2 and 3 and become CERTIFIED MANAGERS upon qualification are required to become and remain current Individual Members.
Interested personnel are requested to submit their application forms together with a *crossed cheque payable to "PERSATUAN PENGURUSAN KOMPLEKS MALAYSIA (PPK) " to reach us on or before 5.00 p.m. on the last day of the abovementioned periods and/or call our Secretariat at Tel: 03-7727 6202 for further information. Please take note that the above fees and subscriptions are all inclusive of 6% GST.
For more information, please click HERE to download the circular and membership application form.
---

Shopping malls in Malaysia today are in a state of flux, having to cope with competition from online shopping as well as more malls coming on stream. As our shopping and retail industry has coped in the past with several economic several crises and other external pressures, this current scenario will become the push for our malls to adapt and evolve to stay relevant. We have brought together mall and retail experts from the region to share their insights and strategies to cope and cater for shoppers' ever changing tastes and trends. With their plethora of experiences, do save the date for our seminar where BREATHING NEW LIFE INTO MALLS will certainly be the platform to pick up new tips for malls to thrive.
For more information, please click HERE to download the event brochure and registration procedure. Interested participants are requested to register with us before the early bird closing date of Friday 16 June 2017.
---
PPK Malaysia is embarking on a new Education Series in 2017 and the first seminar is on 23 May, 2017 at Nexus Bangsar South, KL.
This one day seminar is named " Rethinking Building Safety for Malls " and it is co-organised with Architech Centre Sdn Bhd and the dateline for registration is on 8 May, so please register early.
Please click HERE for details.
---
PPK Malaysia organized its first Study Tour in 2017 with 40 participants from 14 different malls in and around Malaysia.
During the 4 days tour, we visited eleven ( 11 ) shopping malls in and around Bangkok with eight ( 8 ) malls in the city and three ( 3 ) suburban malls. These were the most popular malls that have various concepts, designs and unique attractions which made them so successful.
We were:
CBD Malls – Terminal 21, Central Embassy, Central World, Emporium, Emquartier, Siam Paragon, Siam Center and Siam Discovery
Suburban Malls – Asiatique, Central Festival Eastiville and Gateway Ekamai
The participants gained valuable insights, especially from the malls which gave comprehensive briefings and also conducted walk-about tour with their marketing and customers services personnel to assist along the way. It was indeed a fruitful trip for all and the feedback received was very encouraging from the participants.
All in all, it was a very successful trip and we look forward to more of such study tours with you in the near future, kop kun krub!
Please click here for pics.
---
CERTIFICATION COURSE IN SHOPPING MALL MANAGEMENT:
Marketing and Leasing
Administration
Operations and Maintenance
The first Certification Course in Shopping Mall Management for the first half year is from 3 – 12 April, 2017 and we welcome participation from all members for the various courses. It will be conducted at JW Marriot Kuala Lumpur for all modules.
For more information, click here to contact us or download your entry forms by clicking here.
---