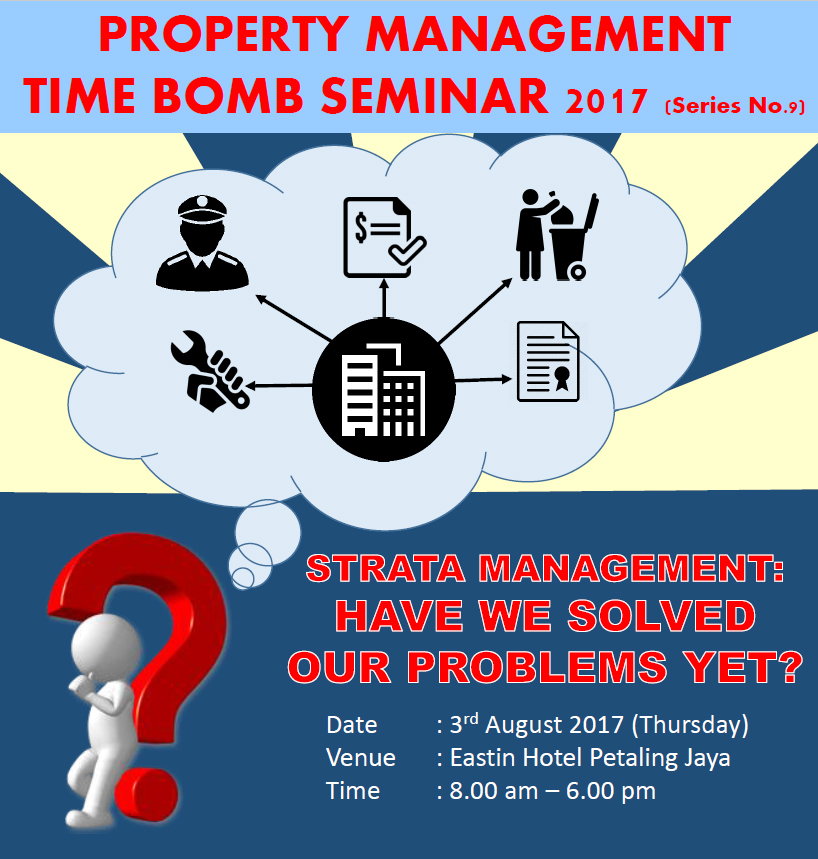 We are pleased to inform members that we shall be again co-organising the above continuing series of seminars on strata management with FIABCI Malaysia. This seminar in Series 9 is themed Strata Management – Have We Solved Our Problems Yet ? and it will present topics on the current situation in strata management since implementation of the STRATA MANAGEMENT ACT (SMA) 2013 and the Strata Management (Maintenance and Management) Regulations 2015 which have been effective since 1 June 2015.
The seminar brings together prominent industry players, property practitioners and representatives from relevant associations/bodies from both the public and private sectors who will share insightful experience with participants.
Details of the programme will cover the following topics:
• Strata Management Act (SMA) – Issues and Solutions
• Updates on the Tribunal
• Strata Management of Mixed Developments
• Strata Management Act (SMA) – The Reality, Problems and Solutions
• Update on the Existing Legal Implications on JMBs/MCs
• Strata Management in Singapore
• Strata Management from a Developer's Viewpoint
• Managing Phases in a Mixed Development Project
The seminar fees are as follows:
• Members of FIABCI Malaysia and PPK Malaysia : RM 477 (inclusive of GST)
• Non-members : RM 583 (inclusive of GST)
Interested participants are requested to register for same with FIABCI Malaysia soonest possible as seats are limited and will be available on a first-come-first-served basis. In the event you require further details, kindly email fiabcimalaysia@fiabci.com.my or event@fiabci.com.my or call Tel: 03-6203 5090/91.
For more information, please click HERE to download the programme and the registration form.